Last weekend I went to the Groundwater Country Music Festival on the Gold Coast and though I enjoyed watching the music (and having a dance), I loved the fashions too and have since become obsessed with Women's Cowboy Boots. Don't get me wrong, I have always been a fan of the Country style but lately, it is really on trend so much easier to find and with more variety. Now you don't need to wear all country to be rocking the cowboy boots, but introducing natural elements into your style can create some really cool boho vibes, which is perfect for a Music Festival, Rodeo or a night out with friends around a fire.
For a bit of inspiration, check out this clip. The worldwide success of this song (Old Town Road) is definitely contributing to bringing the cowboy style back. I mean seriously, the outfits in this clip make me want to ride a cowboy! I mean (cough), ride a horse (with a cowboy maybe? hahaha)!! Or at the very least, do some line dancing or boot-scooting! :-/
Let me tell you, I do love the boho style but nobody rocks this better than my very best friend Lorin. This relaxed and earthy style feels so authentic on her because she is a very natural and outdoorsy person, a trained naturopath with a love of nature, plants and all things outdoors so it seems to suit her personality (and I am ALLLL about matching our style with WHO WE ARE). She is also a petite with a height of 5'3″ (or 163cm) which made her the perfect model for me to style and photograph for this blog post.
PLUS… Her wardrobe is so beautiful with so many long flowy dresses and the coolest pair of…..
Cowboy boots!

I am in LOVE with Lorin's cowboy boots. These were purchased from the Salvation Army Op Shop in Adelaide (her jacket also opped) but I have sourced some other cowboy inspired boots new that I will share at the end of this post. What I love about a good pair of boots, is they are so versatile and super comfy and it doesn't matter so much if they get dirty as they are built for all kinds of terrain!
Dress them up!
One way to style a good pair of cowboy boots is with a long patterned skirt and a slouchy shoulder bag. This entire outfit of Lorin's was second hand from the op shop but again, some new items  inspired by this natural style at the end of the post.
Cowboy boots with a maxi dress, a hat and a denim or suede jacket also really shows a natural, effortless look:
Add a few chunky accessories for a truly boho look…
On that note though, if you are going for a boho look, it's a great idea to keep your look natural by including natural stones/crystals like Lorin's necklace/ring as well as natural materials in fabrics like leather/suede, straw, cotton and linens.
Wear 'em with denim
Another great option is to wear your cowboy boots with denim. I feel like cowboy boots and denim are literally made for each other. You can do this by wearing boots with a short denim skirt or short frayed shorts (such a sexy festival look!), a dress/skirt (any length) with a denim jacket or vest or of course, with a trusty pair of denim jeans!
The bootleg jean is actually made for wearing boots underneath but as a petite, I actually find that it can be tricky to find a good pair of bootleg jeans that don't require you having to cut most of the flare off to hem them! So another really cute (and modern) option is to wear your boots over skinny jeans like this:

What do you think? Do you love the cowboy/country style trend? Do you have any further tips to share? Please comment below! I've also sourced a few items inspired by this natural look for you to shop below: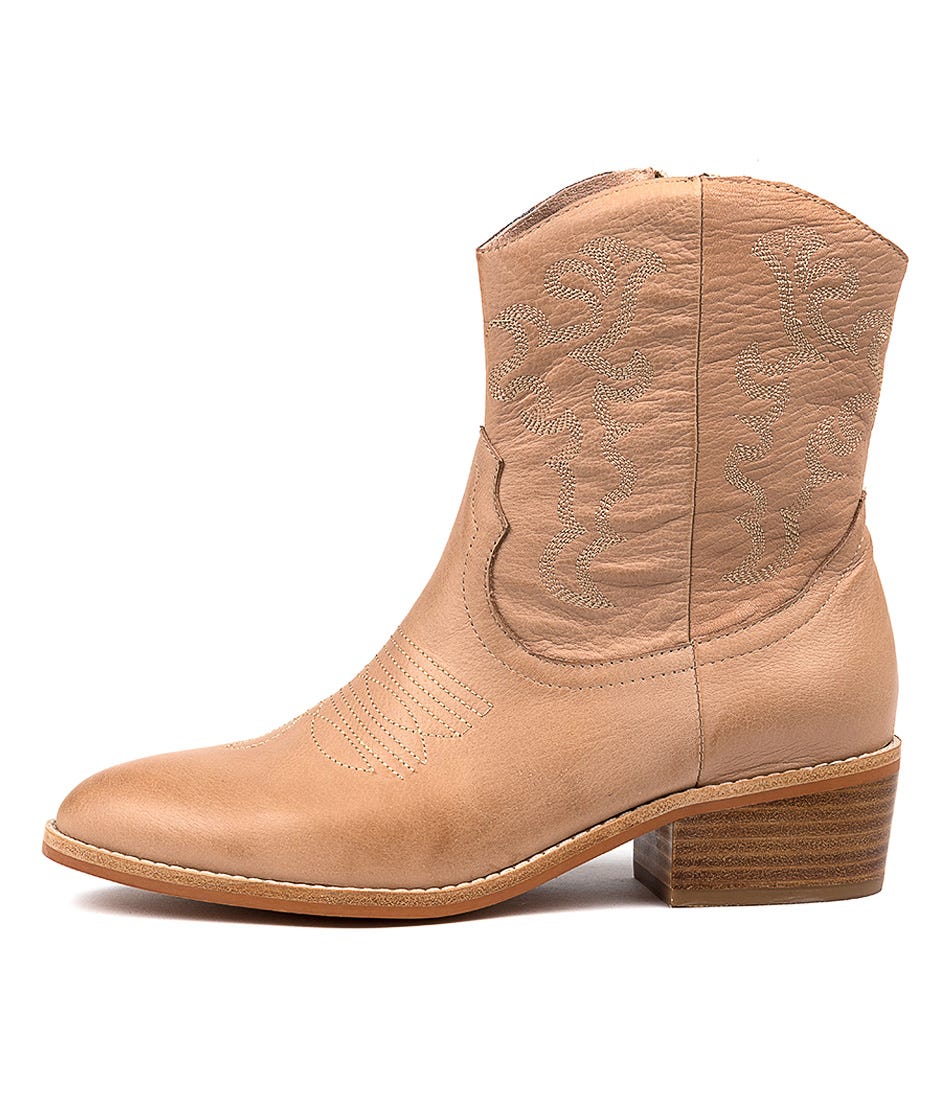 If you are petite (under 5'4″) and would like to be featured on our site, please send an email to renae@stylemepetite.com
Special shout out to Lorin from Nourishing Beliefs for agreeing to model for me for this post. I had so much fun styling and photographing her with all of her beautiful clothes and in her natural habitat! What a beauty! Thanks for being so authentic and stylish Lorin. So inspiring!